GLO Science Professional Whitening is a treatment that Dr. Barber and her team use when wanting to give patients an effective, positive, and stress-free whitening experience. There are three different packages that patients are able to choose from: In-Office Treatment, At Home Device Kits, and the GLO Whitening Gel Vials.  Individuals can pick a single treatment method, or combine more than one to get their perfect smile.
The GLO Whitening method is preferred by dentists because of the decreased sensitivity that patients experience when completing any of the three types of treatment.  Ingredients such as Hydrogen Peroxide, Potassium Nitrate, Glycerin, Sodium Fluoride, Sodium Hydroxide, Polyethylene Glycol, and Sodium Saccharin help to keep the process safe and effective for our patients.  The use of hydrogen peroxide is key to the whitening procedure. 
When electing to receive an in-Office Treatment, the dental team will choose between two strengths of hydrogen peroxide concentrations: 24% and 30%.  The strength is determined by factors such as age, sensitivity level, starting shade, and desired whitening shade.  Combined with the heat and light coming from the mouth piece, a seal is created within the moth and allows for an efficient whitening without creating dehydration or sensitivity.  By controlling the heat within the mouthpiece, highly reactive oxygen ions are prevented from escaping, instead, they strike the tooth surface, resulting in a shorter treatment time.  The four 8-minute application sessions take up half the time that other whitening treatments do.
After a successful in-Office Treatment, or when choosing to whiten initially, some patients elect to use the At Home Device Kits to maintain or achieve their white smile.  This package includes the high powered mouth piece that is also used in the In-Office Treatment, as well as 10% hydrogen peroxide whitening gel.  Using a strong peroxide concentration over long periods of time can lead to permanent changes to the teeth and heightened sensitivity; this is why only 10% whitening gel is utilized in out of office treatments.  The whitening gel is applied directly to the teeth with a special brush tip applicator.  The mouth piece is then inserted and turned on.  The At-Home Device Kit automatically turns off after an 8-minute session is complete and can be repeated as many times as is desired.
If the mouthpiece or light is not desired in an at-home treatment, individuals can elect to use the GLO Whitening Gel Vials.  The vials contain the 10% hydrogen peroxide concentration that can whiten the teeth without the hassle of the mouth pieces.   The easy brush applicator helps to apply product strictly to the teeth, avoiding the gums during application can help to decrease sensitivity during the whitening process at home.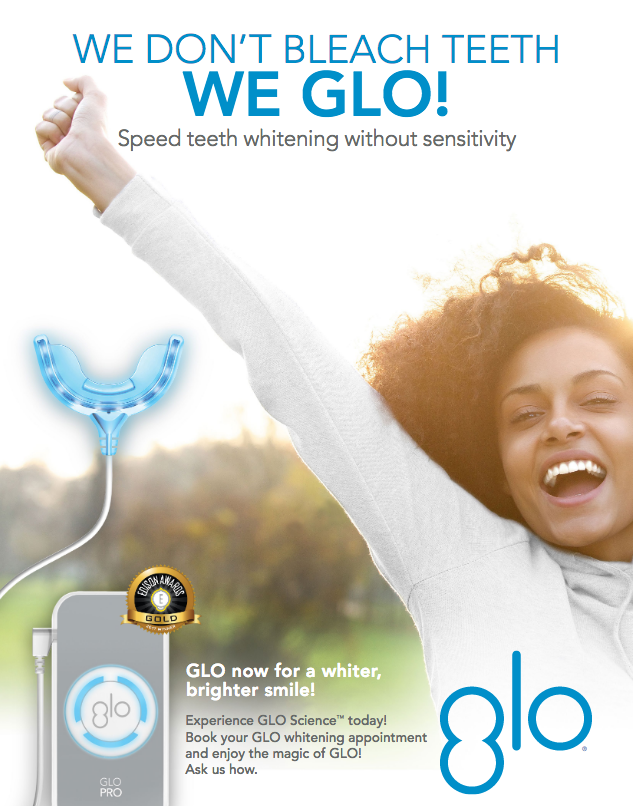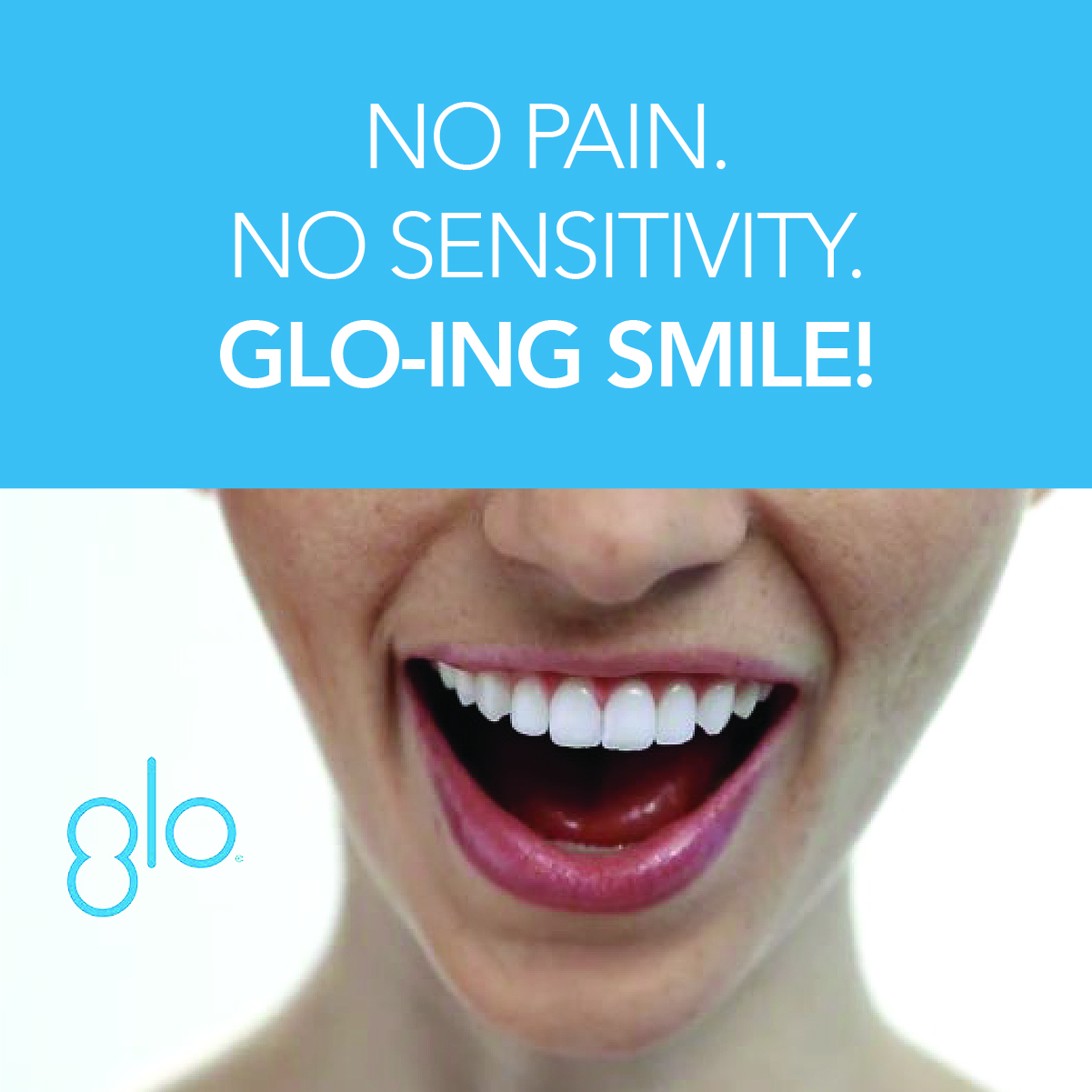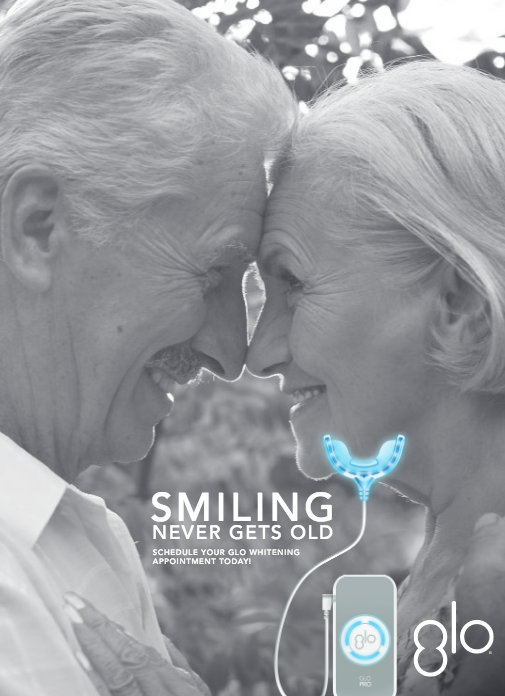 You don't have to wait any longer to get the beautiful smile you always wanted. Modern dental techniques have put smile makeovers within your budget. We'll work with you to design and build a dazzling new smile—one that will make you look and feel great!
Keeping your teeth healthy and functioning well—that's the goal of all our preventive care services. We want you to have a Classic Smile for Life!
Individualized home care treatment plans (tailored for each patient's needs)
When you have a problem with your teeth, our goal is simple: we want to restore them so they look great and function well. You'll smile, speak and chew naturally.  All our restorative procedures have aesthetic goals.  This is true even for back teeth.  We care about function but also how restoration looks.
We combine new technologies with old-fashioned service to make your experience in our dental office as pleasant and comfortable as possible.
Gum disease — also called periodontal disease — is a serious dental condition. If left untreated, it can destroy your bone and cause you to lose your teeth. Gum disease has also been linked to other serious health conditions such as diabetes, stroke, and heart disease. We'll work with you to treat gum disease and show you how to take care of your teeth and gums to prevent future recurrences.
Jann C. Barber, DDS
3154 Collins Ferry Road
Morgantown, WV 26505
Phone: (304) 599-3736
We Accept Cash, Check, Visa, Mastercard, Discover, and Care Credit.
Office Hours
Monday: 7:20 am - 4:30 pm
Tuesday: 10:00 am - 6:00 pm
Wednesday: 6:30 am - 4:30 pm
Thursday: 6:30 am - 4:30 pm
Friday: CLOSED
Appointment Policy
We don't charge for missed appointments but we do ask that you confirm your appointment by 1:30pm the day before. Responding to either the phone call, text message, or email will confirm your appointment. If your appointment is not Unconfirmed appointments will be cancelled.